WASHINGTON —  For the past 15 and a half years, Kamila Talendibaeva has been longing to hear her husband's voice and waiting for news of him.
Her husband, Huseyin Celil, is in a Chinese prison.
Last month, when she and her four sons saw Canadian Prime Minister Justin Trudeau's Twitter post about the release of two Canadian men, Michael Kovrig and Michael Spavor, from a Chinese prison, they were happy the "two Michaels" would reunite with their families.
"My heartfelt hope is that the Canadian government would now focus its attention on my husband Huseyin Celil's case and do whatever is needed to also achieve his freedom and return him to us in Canada," Talendibaeva told VOA.
The two Canadians were arrested just days after the arrest in Canada of Meng Wanzhou, an executive of the Chinese telecommunications firm Huawei, on a U.S. warrant. Kovrig and Spavor's release took place shortly after the announcement of Meng's release. The U.S. struck a deferred prosecution agreement deal with Meng in the bank fraud case against her, allowing her to return to China. China has denied that the two Canadians' case is linked to Meng's arrest.
Celil's arrest
Celil, a naturalized Canadian citizen and a Uyghur, has four Canadian sons. He was arrested by Uzbek authorities on March 23, 2006, while traveling to Uzbekistan to visit his wife's family. Later that year, Celil was transported to China, according to Talendibaeva.
"My three kids, Huseyin, and I as a pregnant woman, all entered with Canadian passports into Uzbekistan with a 20-day visa in early March 2006," Talendibaeva told VOA from her residence in Burlington, Ontario, in Canada.
As a Uyghur, an ethnic minority in northwest China, Celil had left China in the mid-1990s for Uzbekistan, where he met his Uzbek wife. They married in 1999 and later moved to Turkey, where Celil was recognized as a refugee to Canada by the United Nations refugee agency, UNHCR, in 2001, said his family lawyer, Chris MacLeod.
He had been promoting the Uyghur language, culture and faith while in China, MacLeod told VOA.
According to the website of human rights watchdog Amnesty International, Celil fled China after being jailed for supporting the religious and political rights of the Uyghur people.
As for his 2006 arrest in Uzbekistan, "the Chinese authorities accused Huseyin of offenses related to his activities in support of Uyghur rights," Amnesty International stated. "Huseyin has spent much of his time in solitary confinement. He lacks healthy food and is in poor health."
China sentenced him to life imprisonment in a secret trial. It was later commuted to a 20-year sentence, according to his wife.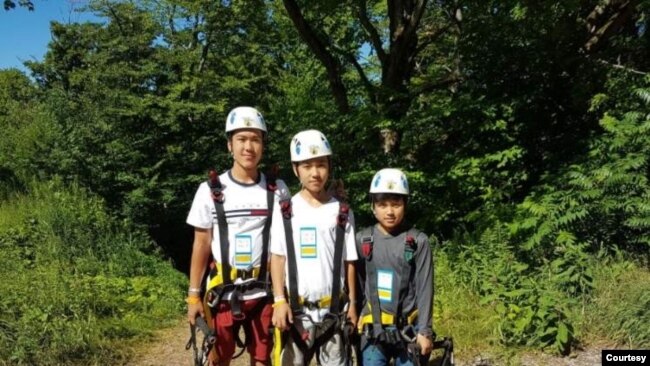 A Canadian citizen
Celil and his wife received their Canadian citizenship in or around 2005, said MacLeod.
"In the process, he renounces his Chinese citizenship by calling the (Chinese) embassy and telling them," the lawyer said. "While in Canada, he spoke up and out in favor of the Uyghur community in China (and) expressed concern about the abuse."
MacLeod said that while in Uzbekistan, one of the children became ill, so Celil and Talendibaeva overstayed their visa. When they tried to renew the Uzbek visa, they came under the radar of the Chinese government, which issued a "red notice" to Uzbekistan to force his Celil's return.
"He was detained for about 90 days as Uzbekistan tried to determine what to do with him," MacLeod said. "Canada was not as on the ball as it should have been, and ultimately, sometime in June or July of 2006, Hussein was picked up and transported back to China."
After the arrest of Celil, Uzbek authorities never allowed Talendibaeva to see her husband.
"I visited (the) Canadian embassy in Uzbekistan and told them what happened. I didn't hear anything from them after that," she said. "Their inaction was also a reason why my husband was handed to China by Uzbekistan secretly at the time."
Canada's response
Celil's ongoing detention is deeply concerning, and Canada continues to engage with China to verify his health and well-being, said Patricia Skinner, a spokesperson for Global Affairs Canada, the government department that manages the country's diplomatic relations.
"While the Chinese government has refused to recognize Mr. Celil's Canadian citizenship, Canadian officials continue to raise his case with Chinese officials at senior levels and press for consular access," Skinner told VOA.
According to Guy Saint-Jacques, Canadian ambassador to China from 2012 to 2016, Prime Ministers Stephen Harper and Trudeau raised Celil's case with Chinese leaders during official visits to China in 2014 and 2016, respectively.
"Each time, Canada asked for consular access as called for in the bilateral Consular Agreement," Saint-Jacques told VOA in an email. "I also raised his case myself with Chinese officials, including during a visit to Xinjiang; I also met with the family of Mr. Celil when I was in Kashgar to discuss his case and hear their views."
While Celil renounced his Chinese citizenship, Beijing did not recognize it.
Chinese officials always claimed that Celil was Chinese, and they did not recognize his Canadian citizenship, according to Saint-Jacques.
"Celil was abducted in a foreign country. He was obviously not asked whether he wanted to enter China on his Canadian passport, which would have guaranteed consular access," Saint-Jacques said. "I recalled telling the Chinese that it was not for them to decide whether this was the case, and for us, he was clearly a Canadian citizen," Saint-Jacques said.
According to Saint-Jacques, Canada on its own would not have been able to secure Kovrig and Spavor's release while Meng was in Canada had not U.S. President Joe Biden intervened with President Xi Jinping, therefore guaranteeing that the men would be released at the same time Meng, after agreeing to a deferred prosecution, returned to China.
"Their case was also an example of hostage diplomacy as they were arrested in retaliation to the arrest of Meng Wanzhou by Canada at the request of US authorities," Saint-Jacques wrote.
According to Wilf Ruland, Amnesty International member and coordinator of the Huseyin Celil Action Network, despite Canadian government efforts to free Celil, he remains in prison and more needs to be done.
"We had hoped that the Canadian government would include Mr. Celil in this deal, but we expect them to learn from this recent success and do the same for Mr. Celil," Ruland told VOA.
The Chinese Embassy in Washington did not respond to VOA's emailed requests for comment on Celil's case.
Talendibaeva has raised her and Celil's sons on her own since her husband's arrest.
"Our oldest is (has) global development delay. He fully depends on me. I have to be around him 24/7," she said. "(Our) second one is 18. He is at Toronto University, majoring (in) engineering. (Our) third one is 17. He is in (the) 12th grade. The youngest one is 15. He was not even born when his father was abducted."
She added: "They can bring anyone from China if they want, but the question is, do they want to bring a father of four Canadian sons and a husband of a Canadian?"